Logitech Challenged Me To Make This Game
https://www.youtube.com/watc...
------Check Out These Logitech Products------ MX Master 3S Mouse https://www.amazon.co.uk/dp/B07W5JKHFZ?ref_=cm_sw_r_cp_ud_dp_M7J6DEZDY5PER7EB3CAK MX Mechanical Keyboard https://www.amazon.co.uk/dp/B07W4DHKZJ?ref_=cm_sw_r_cp_ud_dp_WWV815BJ9FMDR50B3Y84 Logitech BRIO Webcam https://www.amazon.co.uk/dp/B0748NCPN5?ref_=cm_sw_r_cp_ud_dp_TR6MS7NTJSA1Y4X6R5AK Logitech Studio Series Desk Mat https://www.amazon.co.uk/dp/B07W5JK3Z2?ref_=cm_sw_r_cp_ud_dp_4TV4ND0053JQ46Z2AB00 I was challenged by Logitech to make a game with the theme of being stuck in your own code. So I decided to make the scariest game possible in 48 hours (because who doesn't love time constraints)So watch the video to the the behind the scenes of what I made. Also you can play the game with the link right below here and checkout the awesome Logitech products that feature in this video. ------Play the Game------ https://zyger.itch.io/programmers-descent ------My Personal Links------ Discord: https://discord.gg/tYDXGja55Y Instagram: https://www.instagram.com/gabzxd/ Twitch: https://www.twitch.tv/officialzyger Twitter: https://twitter.com/ZygerDesigns ------Check out the other Devs Videos------ Saultoons: https://youtu.be/Zp-8xXN00eM Robert Thomson: https://www.youtube.com/watch?v=xMPFtxfL5Dk. LTGD (video coming soon): https://www.youtube.com/c/LetsTalkGameDesign -----Time Stamps------ 0:00 - Intro 0:17 - Initial Game Idea 0:37- Setting Up The Player 1:17 - Making the Scary Scenes 2:09- Awesome Logitech Products that I've Been Using 3:49 - Making Jump Scares 3:57 - SPIDERS !?! 4:30 - Final Touches 5:05 - My Sister Playing The Game 8:40 - Outro
Hey , my name is Zyger I'm a 19 year old student and I make games and program. (When I'm not lazy) I'm currently working on a game called Project Jude and creating devlog videos of the making process. I also make other game development related videos that I suggest you check out. Anyways hope you enjoy my content and i hope you have a good day or night depending on when or if your reading this. That's it bye :')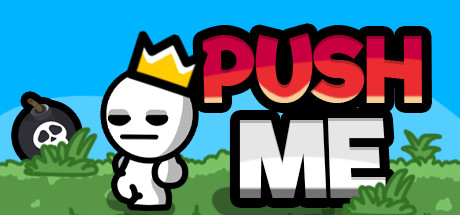 Currently working on
Push Me If You Can
Push Me (if you can) ! Is a 2D platformer where your goal is to push other players into the rising lava! Use items to eliminate others while staying alive. Play fast paced games with your Friends locally or through Steams remote play. Discover new maps and become the best PUSHER out there!
https://store.steampowered.com/app/...