Patch Quest - Launch News!
https://www.youtube.com/watc...
Thank you for all your support on Patch Quest over the years! The game now has a release date, and I'm super excited to show you some of the amazing things I've been working on lately. If you don't have Patch Quest yet, you can get it (or wishlist it) on Steam! ▶ https://store.steampowered.com/app/1347970/Patch_Quest/ For daily dev news, or to get involved in the design process, check out the Discord server: ▶ https://discord.gg/patchquest And you can follow development on Twitter, too: ▶ https://twitter.com/PatchQuest Thanks for following along with Patch Quest development! :D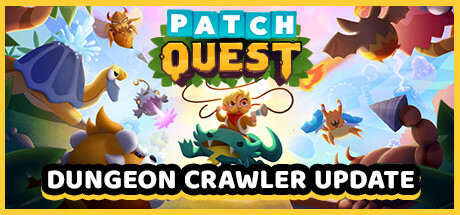 Currently working on
Patch Quest
In a labyrinth surrounded by vicious monsters, Explorers must rely on their Lasso to survive! Capture and tame ANY monster to leap, glide, surf, tunnel and websling through a treacherous, patchwork maze. This roguelike/metroidvania seems cute, but it's a deceptively difficult bullet-hell challenge!
https://store.steampowered.com/app/...